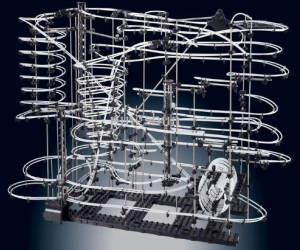 The Spacerail is the closest thing you'll come to a roller-coaster at your own home. If you don't already have a real roller-coaster at your home of course as Michael Jackson had.
In the 80's, before "playing" was the same as staring at a screen while pretending that you are a troll and pressing fanatically with your thumb on a joystick, it happened sometimes that kids built things.
Car and train sets were such things, but Spacerail was perhaps the funniest set, or Spacewarp as it also was called. It was a roller-coaster built with small rails where the goal was to build a kind of perpetual motion machine where steel balls rolled and rolled and rolled and rolled along the path. But that was then. Now the Japanese (who else?) has updated the concept and it's clearly the best and funniest Spacerail of all time. It's just as fun to put together as it is to see it work. Both as a project and a toy. The Spacerail will without a doubt provide hours of fun and entertainment for the whole family. For just like in the the 80's, the construction of the track is just as important as getting the balls to roll.
This is the closest thing to a roller-coaster you will get at your home. If you don't already have a roller-coaster at home of course. But I guess no one has that now after Michael Jackson died?
But it takes some time to assemble the Spacerail. It took us six hours with a lot of cursing and furious looks, but that's nothing compared to the joy and the pride we feelt when the Spacerail was fully assembled. And yes, it's big boy's toy.
We go around the web looking for new cool geeky items to surprise you. Today we've found Spacerail and we think it's awesome. So go ahead and check it out, and leave your comments and share it with your friends on Facebook, Twitter, Pinterest or Google+. If you do get this geeky gadget for yourself or as a present for someone else, tell us how you liked it, that would be awesome! :)
Categories: $100 to $200, All, All Prices, Toys & Fun