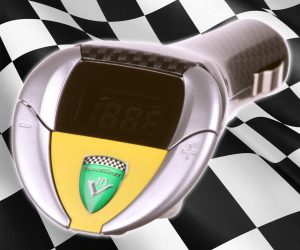 Make your tiny, environment friendly car engine sound like the powerful V10 from a Ferrari with this brilliant invention that you just plug in your car's cigarette lighter socket!
Sometimes a scientific study explains things best: The British insurance company Hiscox lot 40 men and 40 women listen to the engine sounds from various cars: Maserati, Lamborghini, Ferrari and a Volkswagen Polo. Then the testosterone levels in their spit were measured. An elevated testosterone level reveals excitement, and 100% of the women had elevated testosterone levels when they listened to the Maserati. The men however, had the highest testosterone levels after listening to the sound of the Lamborghini. Common to both women and men was that the testosterone levels dropped when they listened to the engine sound of the Volkswagen Polo.
So what do we want to tell you with this (besides writing the difficult word "testosterone level" a whole bunch of times)? Well, if a car sounds cool, then it is cool and cool cars are sexy.
But now can even a climate-friendly, small and cheap car sound cool like a V10 supercar and be cool and therefore sexy. Just with the help of a little box in your car's cigarette lighter socket. Thanks SoundRacer!
SoundRacer is basically a FM transmitter, just like the one you use to listen to your mp3 player through your car radio with. But the big difference is a specially programmed circuit that can detect your car's engine speed and then play engine sounds from your car's speakers via the FM network. Start your car and feel how the powerful sound of a powerful V10 fills the inside of your car and then hums true when you're accelerating, shifting, downshifting or idling.
We go around the web looking for new cool geeky items to surprise you. Today we've found SoundRacer and we think it's awesome. So go ahead and check it out, and leave your comments and share it with your friends on Facebook, Twitter, Pinterest or Google+. If you do get this geeky gadget for yourself or as a present for someone else, tell us how you liked it, that would be awesome! :)
Categories: $25 to $50, All, All Prices, Tech