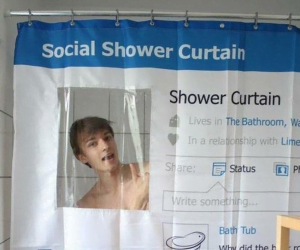 The standard white or floral patterned shower curtain can be a bit boring for the social media geek who seeks awesomeness. So therefore, some brilliant brains has invented the Social Shower Curtain!
With the Social Shower Curtain, you can bring your social media profile with you into the shower! This awesome shower curtain is perfect for the social networker who wants to be "online" all the time, even in the shower!
The curtain measures 70" x 70", it's water resistant and it has a transparent section in the top corner so you can display yourself as a profile picture through the curtain as you're scrubbing away!
Buy it as a gift for the social networkers in the family and it will without a doubt become a hit!
We go around the web looking for new cool geeky items to surprise you. Today we've found Social Shower Curtain and we think it's awesome. So go ahead and check it out, and leave your comments and share it with your friends on Facebook, Twitter, Pinterest or Google+. If you do get this geeky gadget for yourself or as a present for someone else, tell us how you liked it, that would be awesome! :)
Categories: $1 to $25, All, All Prices, For The Home/Family, Home & Kitchen, Popular Product
Comments