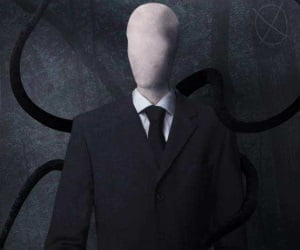 The Slender Man Costume is probably the creepiest Halloween costume ever. Put on the skintight suit on Halloween and stalk random unsuspecting people. They'll most likely crap their pants when they look behind!
There are few creatures that are more frightening and creepy than Slender Man - He stalks you wherever you go, and if your flashlight runs out of power, he might appear in front of you with his blank face and black suit. Just the thought would scare the crap out of most of us.
But if you want to scare random unsuspecting people on a late night or on Halloween, you can actually buy the Slender Man costume! Just put on the Slender Man morphsuit and stalk random people at night. And when they turn around to see what's following them, just freeze and don't say a word. They'll most likely freak out and run screaming down the street and yell "SLEEEEENDER MAN!!!!". Try it, it's worth it.
We go around the web looking for new cool geeky items to surprise you. Today we've found Slender Man Costume and we think it's awesome. So go ahead and check it out, and leave your comments and share it with your friends on Facebook, Twitter, Pinterest or Google+. If you do get this geeky gadget for yourself or as a present for someone else, tell us how you liked it, that would be awesome! :)
Categories: $25 to $50, All, All Prices, Popular Product, Wearables