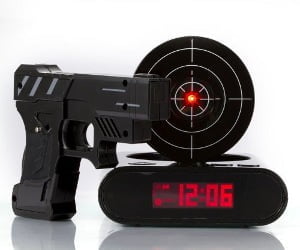 Wake up with a bang by shooting down that annoying alarm clock that has become a living hell every morning. The idea is simple – in order to turn it off you have to shoot it down which makes you wake up and get up.
If you're anything like me you have trouble getting up in the morning and you keep hitting that snooze button way too many times. The shooting target alarm clock solves this problem by making you concentrate in order to shut off the alarm clock. No more hitting the snooze button and getting back to your sleep, you actually have to wake up and get up in order to do this.
The shooting is actually a little game that works in three modes. The quick shot mode has you make 5 perfect shots withing 3 minutes, the time mode which tests your speed against the clock, and the random mode which changes up the timing.
It certainly adds fun to waking up plus you get to feel like a bad-ass getting to shoot down your alarm clock every morning.
If you have trouble getting up in the morning this is a fun option to address the issue.
We go around the web looking for new cool geeky items to surprise you. Today we've found Shooting Target Alarm Clock and we think it's awesome. So go ahead and check it out, and leave your comments and share it with your friends on Facebook, Twitter, Pinterest or Google+. If you do get this geeky gadget for yourself or as a present for someone else, tell us how you liked it, that would be awesome! :)
Categories: $25 to $50, All, All Prices, For Him, Home & Kitchen