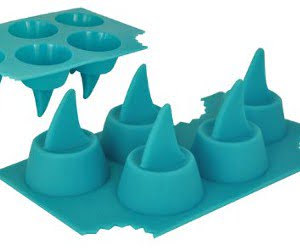 Got tired of the boring old ice cubes shaped like… cubes? How about little sharks swimming in your cold drinks? Shark fin ice cubes not only will refresh you but look cool in your drink as well.
All you need is this shark fin ice cube tray to make awesome little sharks swimming in your drinks. All you have to do is fill it up with water and put it in the freezer.
The tray will make shark fin shaped ice cubes that you can put in your drinks and watch them float like little sharks. It's a fun little tool to have in your kitchen and make your drinks more interesting.
We go around the web looking for new cool geeky items to surprise you. Today we've found Shark Ice Cubes and we think it's awesome. So go ahead and check it out, and leave your comments and share it with your friends on Facebook, Twitter, Pinterest or Google+. If you do get this geeky gadget for yourself or as a present for someone else, tell us how you liked it, that would be awesome! :)
Categories: $1 to $25, All, All Prices, Food & Drinks, For The Home/Family, Home & Kitchen