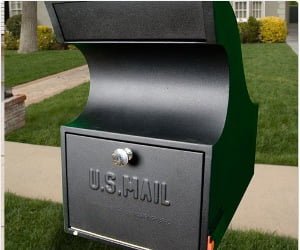 It's time to take care of protecting your mail seriously. With this secure mail vault your mail will be protected from all hazards, human and natural even if you leave home for lengthy periods of time.
The steel vault has dual door and a lock pad as well as mechanical key lock. It will hold against any kind of weather and will last years to come. It will even protect your mail from thieves or vandalism.
It can store letters, magazines, newspapers and small packages inserted through a hinged slot and once there it can only be retrieved by you. The vault weighs 52.8 pounds and is 21 x 12.4 x 18 inches in size.
If you're a security geek this mail vault is a must have. No self respecting person who takes their security seriously will leave their mail in a regular mailbox out in the open. Not unless you only receive junk mail, in which case it can burn in hell.
We go around the web looking for new cool geeky items to surprise you. Today we've found Secure Mail Vault and we think it's awesome. So go ahead and check it out, and leave your comments and share it with your friends on Facebook, Twitter, Pinterest or Google+. If you do get this geeky gadget for yourself or as a present for someone else, tell us how you liked it, that would be awesome! :)
Categories: $100 to $200, All, All Prices, For The Home/Family, Other