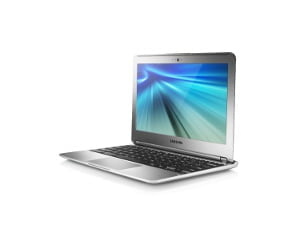 Samsung Chromebook is a lightweight laptop that does things faster, cleaner, and easier. The computer starts up in seconds, has a built in virus protection, and comes with all of the latest Google items.
The Chromebook requires almost no setup, there are no set ups or patches that need to be installed. Take the computer out of the box, turn it on and you are ready to go. All of the Google apps work with the computer so you can work, play and do whatever else you want with this light little object.
The little computer weighs 2.4 pounds and has a battery life of 6.5 hours. It is built to be silent. Since it was built to stay cool there is no fan running in the background. With the dual band wi-fi and the built in webcam this computer is ready to go wherever and whenever it is needed. The ability to keep information safe and secure is a top priority for everyone. Since there is free access to the cloud all of the information will always be secure, 100GB of free Google Drive storage comes with the computer for two years. This keeps things safe and secure with the ability to access them from everywhere.
Features of computer offer a full sized keyboard along with multiple ports of different sizes. Two USB ports along with a HDMI cable port allows for greater flexibility with functions of the computer. The unique hinge allows connection for almost all angles. One of the most exciting aspects of the Chromebook is that is comes with twelve free in air internet passes. This will allow the use of the computer when traveling on long flights. These tickets can be used for two years on any domestic flight.
We go around the web looking for new cool geeky items to surprise you. Today we've found Samsung Chromebook and we think it's awesome. So go ahead and check it out, and leave your comments and share it with your friends on Facebook, Twitter, Pinterest or Google+. If you do get this geeky gadget for yourself or as a present for someone else, tell us how you liked it, that would be awesome! :)
Categories: $200 to $500, All, All Prices, For Her, For Him, Tech