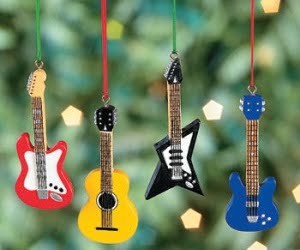 Santas, angels, sleighs, tiny pigs, gingerbread and flags. There's no end to the odd decorations we use to hang up in a tree in our living room when Christmas is approaching. It may be nice, but is it enough "rock'n'roll"?
Here comes the Christmas tree decorations for all households where Santa use to wear a jeans jacket - four little funky guitars with different highly detailed designs. These hip ornaments will without a doubt look good under the star. And then just follow these wise words from Jingle Bell Rock, "what a bright time, it´s the right time. To rock the night away."
The guitars are 3" high and comes with attached cords.
We go around the web looking for new cool geeky items to surprise you. Today we've found Rock'n'Roll Tree Decorations and we think it's awesome. So go ahead and check it out, and leave your comments and share it with your friends on Facebook, Twitter, Pinterest or Google+. If you do get this geeky gadget for yourself or as a present for someone else, tell us how you liked it, that would be awesome! :)
Categories: $1 to $25, All, All Prices, Other