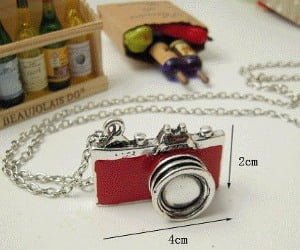 Looking for an original necklace to surprise your significant other? How about a necklace that looks like a cute little retro style camera.
While it's not a functional camera and you won't be able to take pictures with it but it will look very cool and will make a great conversation starter. It looks great with or without retro style attire.
The little camera pendant is 4x2 cm in size made of metal material and comes on a 70 cm long chain.
It will be a great gift to that geeky girl in your life or anyone who appreciates original gifts.
We go around the web looking for new cool geeky items to surprise you. Today we've found Retro Camera Necklace and we think it's awesome. So go ahead and check it out, and leave your comments and share it with your friends on Facebook, Twitter, Pinterest or Google+. If you do get this geeky gadget for yourself or as a present for someone else, tell us how you liked it, that would be awesome! :)
Categories: $1 to $25, All, All Prices, For Her, Wearables