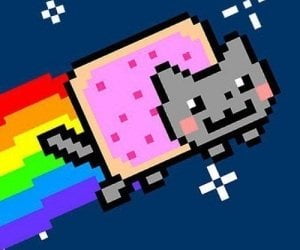 The Rainbow Nyan Cat is more like the mascot for this new meme pop-culture where everything is about cats, rainbows, unicorns and magical powers. And we geeks love it!
And if you, like us, find the singing Nyan Cat more cute and adorable than it's annoying, we have some really good news for you! Instead of dressing up your real cat as a Nyan Cat and force it to fart rainbows and memorize the Nyan Cat theme song, you can now own your very own Rainbow Nyan Cat plush toy that play the Nyan Cat theme song when you squeeze it, without bothering any real cats!
The 8-Bit Rainbow Nyan Cat Plush Toy With Sound measures 6" across and is a big hit among fans, kids and kittens.
We go around the web looking for new cool geeky items to surprise you. Today we've found Rainbow Nyan Cat Plush Toy and we think it's awesome. So go ahead and check it out, and leave your comments and share it with your friends on Facebook, Twitter, Pinterest or Google+. If you do get this geeky gadget for yourself or as a present for someone else, tell us how you liked it, that would be awesome! :)
Categories: $1 to $25, All, All Prices, For Her, Toys & Fun