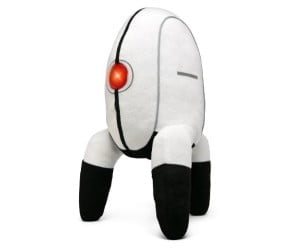 It is adorable and cute! Whether you are a girl or an emotional guy that loves Portal video game series, this turret plush is worth your attention. It is 14.5 Inches Tall and may seem surprisingly bigger than you can have an impression from the product image.
The turret's eyes can light up brightly and it also says the phrases from the actual game. It comes with motion detection sensor which then plays random line from the Portal 2.
So, if you want to increase your home security, you can get this Portal 2 Turret Plush(actual working guns are not included).
We go around the web looking for new cool geeky items to surprise you. Today we've found Portal 2 Turret Plush and we think it's awesome. So go ahead and check it out, and leave your comments and share it with your friends on Facebook, Twitter, Pinterest or Google+. If you do get this geeky gadget for yourself or as a present for someone else, tell us how you liked it, that would be awesome! :)
Categories: $25 to $50, All, All Prices, Toys & Fun