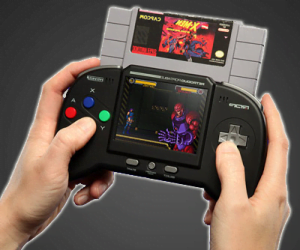 Forget new, modern & overhyped games as COD, Battlefield 3 and Angry Birds and crush some Koopas instead on this retro duo portable NES/SNES game system!
If you grew up during the wonderful 80's, you probably remember the NES (Nintendo Entertainment System). And if you grew up during the amazing 90's, you probably remember the SNES (Super Nintendo Entertainment System) as well. These game consoles was clumsy and heavy and the games had far from the graphics that modern games have. But the games were original, something today's games aren't and that's what made them so fun and entertaining.
So if you had a NES or a SNES (or both) when you were younger, you can now play your favorite retro 8-bit & 16-bit games on this portable NES/SNES system!
With the Retro Duo Portable NES/SNES Game System you can either play solo on the bus, or you can connect it to the big screen TV in your basement. Whatever you choose, you will be entertained for hours just like in the good old days!
We go around the web looking for new cool geeky items to surprise you. Today we've found Portable NES/SNES Game System and we think it's awesome. So go ahead and check it out, and leave your comments and share it with your friends on Facebook, Twitter, Pinterest or Google+. If you do get this geeky gadget for yourself or as a present for someone else, tell us how you liked it, that would be awesome! :)
Categories: $50 to $100, All, All Prices, Toys & Fun