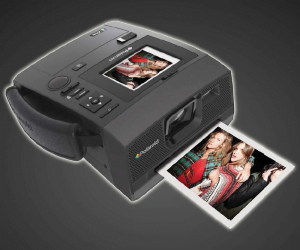 If you think that the Polaroid Z340 camera contains 70-century technology, you should think again. This is a modern 14 megapixel digital camera with a 2.7 "LCD display that takes images of excellent quality.
See the picture you have taken on the 2.7" bright color LCD screen and select whether to print it or not. You might want to crop it first, or add a nice frame? No problem! Maybe you have other pictures taken in a completely different context that you want printed? If you have, just transfer them to the camera and print them out!
Polaroid Z340 uses ZINK Zero Ink Printing Technology in 3x4" format, or in other words, colorful images of good quality on water and dirt-resistant photo paper. You don't need ink, toner and such things because in Polaroids magical world it works anyway!
We go around the web looking for new cool geeky items to surprise you. Today we've found Polaroid Z340 and we think it's awesome. So go ahead and check it out, and leave your comments and share it with your friends on Facebook, Twitter, Pinterest or Google+. If you do get this geeky gadget for yourself or as a present for someone else, tell us how you liked it, that would be awesome! :)
Categories: $200 to $500, All, All Prices, Tech