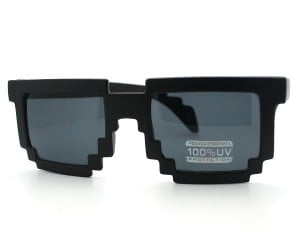 Show you're a true geek by wearing these awesome pixelated sunglasses. They look hip, they look cool, they look great, they pay homage to the old-school video game era that we geeks love.
The sunglasses are made with an acetate based frame, metal hinges and polycarbonate UV protected lenses. They're light and protect your eyes from the sun while making you look hip.
The glasses are cheap so you might as well grab a few for your friends - give them as a gift. These unique and classy sunglasses will be appreciated by any geek or a fan of hip accessories.
We go around the web looking for new cool geeky items to surprise you. Today we've found Pixel Sunglasses and we think it's awesome. So go ahead and check it out, and leave your comments and share it with your friends on Facebook, Twitter, Pinterest or Google+. If you do get this geeky gadget for yourself or as a present for someone else, tell us how you liked it, that would be awesome! :)
Categories: $1 to $25, All, All Prices, For Her, For Him, Wearables