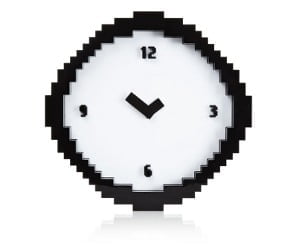 Us geeks love pixels – they symbolize classic games when everything consisted of big pixels. So this clock is a fine tribute to the great era of old-school games, not to mention it looks great on the wall.
It's a simple and light battery powered wall clock at 30 cm in diameter but it's well made and looks neat. If you're the kind of geek who is into classic games back from Atari or Commodore era (and let's face it, PC games of the early 90 had their share of big pixels too), it will work great as a decoration in your home. Especially if you have other similar stuff around that will compliment the clock.
Get it for yourself or as a gift to a geek in your life.
We go around the web looking for new cool geeky items to surprise you. Today we've found Pixel Clock and we think it's awesome. So go ahead and check it out, and leave your comments and share it with your friends on Facebook, Twitter, Pinterest or Google+. If you do get this geeky gadget for yourself or as a present for someone else, tell us how you liked it, that would be awesome! :)
Categories: $1 to $25, All, All Prices, For The Home/Family, Home & Kitchen