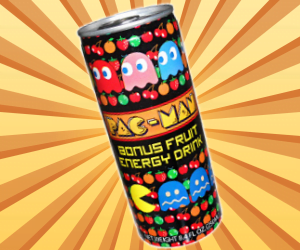 After a hard day with geeky tasks it's always refreshing with an tasty and powerful energy drink to get an extra energy boost and the Pac-Man Energy Drink is no exception.
When the crazy scientists created this one, they first invented real Pac-Man bonus fruits and then puted them into a blender and mixed the elixir with some serious "stimulants". The result became a awesome energy drink that probably contains more caffeine than soda, but what the heck! It's the caffeine you want. And besides the massive amount of caffeine and other "stimulants", it tastes pretty good!
The Pac-Man Energy Drink can also be the perfect collectable if you or someone you know collect on awesome cans because the can is really awesome!
The can contains 8.4 oz of tasty cherry flavored geek juice that will give you the energy kick you need!
We go around the web looking for new cool geeky items to surprise you. Today we've found Pac-Man Energy Drink and we think it's awesome. So go ahead and check it out, and leave your comments and share it with your friends on Facebook, Twitter, Pinterest or Google+. If you do get this geeky gadget for yourself or as a present for someone else, tell us how you liked it, that would be awesome! :)
Categories: $1 to $25, All, All Prices, Food & Drinks