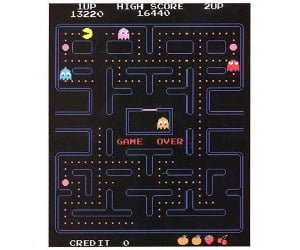 If you need something to keep you warm during those long gaming nights, this Pac Man fleece throw blanket will do the job and it will keep up with the geeky video game theme at the same time.
Not only it will keep you warm, it will enhance your gaming experience as well. After all, not everyone can say they're rolled up in a Pac Man blanket.
This blanket pictures an actual Pac Man game screen and it's 50x60 inches in size. It's perfect as a bed or a couch cover, you can hang it on the wall for your home decor, or you can roll up in it on cold winter nights.
Any old-school game geek will appreciate it as a gift.
We go around the web looking for new cool geeky items to surprise you. Today we've found Pac Man Blanket and we think it's awesome. So go ahead and check it out, and leave your comments and share it with your friends on Facebook, Twitter, Pinterest or Google+. If you do get this geeky gadget for yourself or as a present for someone else, tell us how you liked it, that would be awesome! :)
Categories: $25 to $50, All, All Prices, For Her, For Him, For The Youngster, Home & Kitchen