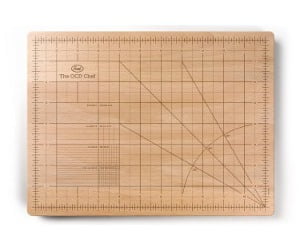 While having your food cut at precise angles seems like a symptom of OCD, precision also makes a good impression. With this board you can cut bread, cake, or veggies with high precision.
And if you consider that food presentation makes half the taste, you can make the food you prepare twice as delicious by using a high precision cutting board in your kitchen.
It's made of strong beechwood that won't wear out quickly and has precise grid of measurements that can be used for cutting food. Use it to surprise your family or guests with perfectly cut food.
We go around the web looking for new cool geeky items to surprise you. Today we've found OCD Cutting Board and we think it's awesome. So go ahead and check it out, and leave your comments and share it with your friends on Facebook, Twitter, Pinterest or Google+. If you do get this geeky gadget for yourself or as a present for someone else, tell us how you liked it, that would be awesome! :)
Categories: $1 to $25, All, All Prices, For Her, Home & Kitchen