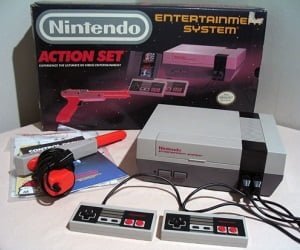 The NES (Nintendo Entertainment System) is the geek's preferred game console and it's probably the best console ever made. And it's still available if you rather prefer the classic 8-bit games instead of today's modern games.
The good old NES. Ever since it was introduced on the market for the first time in 1985, the Nintendo Entertainment System has been the geek's preferred game console due to numerous reasons. Some of these reasons are the console's wonderful 8-bit graphics and its original games like Super Mario Bros. and all the other arcade game successes. And today's gaming industry actually owes its very existence to the NES.
But if you thought that man had forgotten this wonderful masterpiece from the mid-80's, you're wrong. In fact, the NES is a very sought after game console in these days because modern games and modern game consoles are focusing too much on the graphichs and too little on the gameplay and the game experience. And almost all the game titles (except Minecraft, Portal, etc.) that has been realeased to game consoles and computers after PS2, lacks originality. I bet all of us who grew up during the 80's and the 90's can agree on that. So if you miss those easy and pixelated times, you can do as many others who are sick and tired of the modern games and buy a NES so you can play your favorite old school classic games on your 50" HD TV. Something new and something old that merge into a wonderful gaming experience. Can it get any better?
We go around the web looking for new cool geeky items to surprise you. Today we've found NES Video Game Console and we think it's awesome. So go ahead and check it out, and leave your comments and share it with your friends on Facebook, Twitter, Pinterest or Google+. If you do get this geeky gadget for yourself or as a present for someone else, tell us how you liked it, that would be awesome! :)
Categories: $100 to $200, $200 to $500, $25 to $50, All, All Prices, For The Home/Family, Toys & Fun