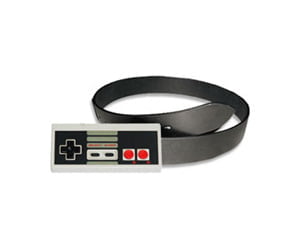 Have you ever wondered where do those old NES controllers go? Why they are made into fashionable belt buckles of course. And all true geeks wear them with pride. So can you.
The last cry of geeky fashion and worn by geeks all around the globe the NES controller buckle seems just a perfect accessory to hold your pants up. It's pretty much unisex so both guys and ladies can wear it and look cool.
It's a perfect gift for yourself or any other geek in your life, especially if you played NES as a kid - it will sure take you back the memory lane.
We go around the web looking for new cool geeky items to surprise you. Today we've found NES Belt Buckle and we think it's awesome. So go ahead and check it out, and leave your comments and share it with your friends on Facebook, Twitter, Pinterest or Google+. If you do get this geeky gadget for yourself or as a present for someone else, tell us how you liked it, that would be awesome! :)
Categories: $25 to $50, All, All Prices, For Her, For Him, Wearables