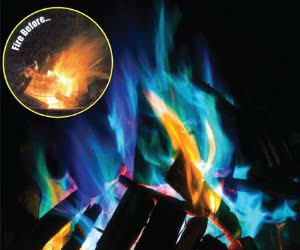 Color the fire of a campfire or a fireplace with these fire colorants and make it seem nothing short of mystical. It's a great way to add to the mystical spirit of fire and impress your friends.
The package includes 12 multi-color packets to color the fire and each of them lasts about 30 minutes. You can use multiple coloring packets in a fire for better effect.
You can use them in a campfire, a fireplace at home, or a fire pit in backyard. The colorants will turn the fire into a colorful display. The result is really amazing and is sure to leave your guests in awe.
We go around the web looking for new cool geeky items to surprise you. Today we've found Mystical Fire Colorants and we think it's awesome. So go ahead and check it out, and leave your comments and share it with your friends on Facebook, Twitter, Pinterest or Google+. If you do get this geeky gadget for yourself or as a present for someone else, tell us how you liked it, that would be awesome! :)
Categories: $1 to $25, All, All Prices, For The Home/Family, Other