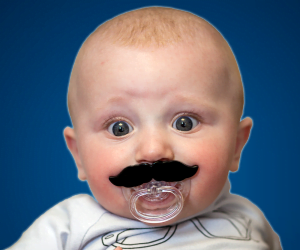 Why settle for a regular boring pacifier when you can equip your child with an awesome mustache pacifier and make your little lovely angel into a Sir?
If you didn't know, the handlebar mustache is back in style and it is a huge fashion hit among young children in these days. And when they are too young to grow facial hair, there can't be any easier solution than to give them a mustache pacifier, can it?
Everyone who sees your adorable baby with the Mustache Pacifier will open their eyes wide open and fear and respect him or her because with a particularly lengthy and upwardly curved handlebar mustache, he or she will after all look like a Sir.
We go around the web looking for new cool geeky items to surprise you. Today we've found Mustache Pacifier and we think it's awesome. So go ahead and check it out, and leave your comments and share it with your friends on Facebook, Twitter, Pinterest or Google+. If you do get this geeky gadget for yourself or as a present for someone else, tell us how you liked it, that would be awesome! :)
Categories: $1 to $25, All, All Prices, For The Youngster, Other, Popular Product