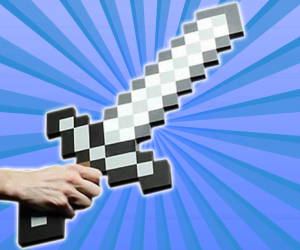 Now you can fight against Creepers in your own backyard! This awesome Minecraft Foam Sword is a must-have weapon for the ultimate Minecraft geek who doesn't get enough of Minecraft!
This sword look just like the sword from the game. It's recommended for everyone who is a big fan of the game because it really makes you feel like a real-life minecrafter (combine it with the Minecraft Foam Pickaxe, and you are fully equipped for the real-life Minecraft world).
Dress yourself as Minecraft Steve and one of your friend as a Creeper and fight. It doesn't get any cooler than that! Does it?
This sword is very durable as well. We at Awesome Geek Stuff have had a lot of fun with these and they have never broken due to the high-quality foam they are made of which also makes them safe to use. They are recommended for kids as well because they can't get hurt with these.
We go around the web looking for new cool geeky items to surprise you. Today we've found Minecraft Foam Sword and we think it's awesome. So go ahead and check it out, and leave your comments and share it with your friends on Facebook, Twitter, Pinterest or Google+. If you do get this geeky gadget for yourself or as a present for someone else, tell us how you liked it, that would be awesome! :)
Categories: $1 to $25, All, All Prices, For The Youngster, Popular Product, Toys & Fun