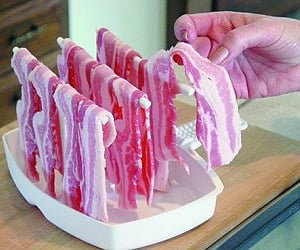 If you like to drink bacon fat or collect it for other areas of usage such as dipping pieces of bread in it or use it as lotion, what could possibly be more useful than the Microwave Bacon Rack?
This bacon rack with a tray beneath to collect delicious bacon fat is the one essential and "must-have" kitchen item for the geek who loves the delicious fat that comes off the bacon strips when he renders it! It's probably the most delicious fat in the world and it can be used for for so many things. You can for example fry other foods in it to give it some bacon flavor, make soap bars of it so you smell like bacon, use it as body lotion, or you can just pour it into a cup and drink it.
Just hang the bacon strips over the rack, put the rack with the bacon in the microwave and cook it in your microwave until you have crispy bacon strips and a tray full of bacon fat. It's much easier and takes much less time than to cook the bacon and render its fat on foil in the oven.
We go around the web looking for new cool geeky items to surprise you. Today we've found Microwave Bacon Rack and we think it's awesome. So go ahead and check it out, and leave your comments and share it with your friends on Facebook, Twitter, Pinterest or Google+. If you do get this geeky gadget for yourself or as a present for someone else, tell us how you liked it, that would be awesome! :)
Categories: $1 to $25, All, All Prices, For Him, Home & Kitchen, Popular Product