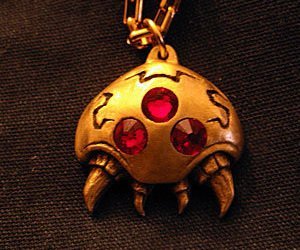 Here's a little something for classic games geeks – a Metroid pendant. This little piece of jewelry not only looks good it captures the old geeky spirit of the classic Nintendo game.
The pendant is made of solid brass polished to a shine with added red gems. You can also choose it to be made of precious metals - gold or silver (of course that will make it more expensive). It comes on a gold toned chain or you can choose a braided black leather cord.
A classy pendant from the classic game era is a perfect gift for the geek in your life.
We go around the web looking for new cool geeky items to surprise you. Today we've found Metroid Pendant and we think it's awesome. So go ahead and check it out, and leave your comments and share it with your friends on Facebook, Twitter, Pinterest or Google+. If you do get this geeky gadget for yourself or as a present for someone else, tell us how you liked it, that would be awesome! :)
Categories: $25 to $50, All, All Prices, For Her, Wearables