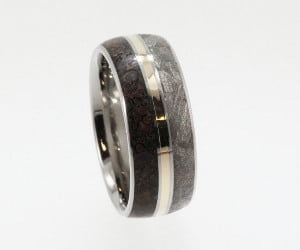 Look at this ring, it oozes magic. A ring like this must be magic. It adds +1 constitution and +25 charisma and an ability to animate dinosaur skeletons. And it's made of some of the most rarest materials on earth.
The ring is made of titanium, meteorite and dinosaur bone with a 14K gold stripe. To say it looks sophisticated is an understatement, it's magical. The RPG players know what I'm talking about. And even if you're not one, you will love the uniqueness of this item.
If you're looking for a unique gift this is as unique and original as it gets. Imagine telling someone what your ring is made of. "Oh, just meteorite, dinosaur bone and gold". As unbelievable as it sounds it is true, and that's why it's so awesome.
We go around the web looking for new cool geeky items to surprise you. Today we've found Meteorite Dinosaur Bone Gold Ring and we think it's awesome. So go ahead and check it out, and leave your comments and share it with your friends on Facebook, Twitter, Pinterest or Google+. If you do get this geeky gadget for yourself or as a present for someone else, tell us how you liked it, that would be awesome! :)
Categories: $500 & Above, For Her, For Him, Other, Wearables