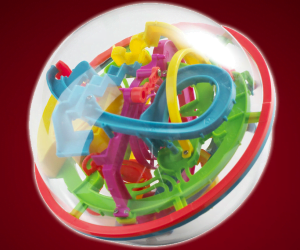 We geeks love a real challenge, and how harder the challenge is, the more satisfied we are with ourselves when we have solved it. The Maze Game Ball is no exception. It's easy to play, but really hard to master.
Ever since Theseus tricked the Minotaur, man geek has had a strong fascination for labyrinths. Strange really, as we all would think it had been really exhausting to end up in a maze when we were not prepared for it. However, if we are tasked to solve a maze, most geeks starts to work with the maze immediately just for pure fun. The maze should preferably be as tricky as possible. And unlike if we had been stuck in a real maze, the frustration we feel is not frustrating, it's lovely. And believe us, no maze is more frustrating than the Maze Game Ball!
Send your little silver ball through a multicolored maze that constantly forces you to think in 360 degrees. Send the ball down through the horizontal loop and then through the vertical platform and then up in a curve and so on and so on... It's easy to play, but really hard to master even for the geek who thinks he can master any maze!
We go around the web looking for new cool geeky items to surprise you. Today we've found Maze Game Ball and we think it's awesome. So go ahead and check it out, and leave your comments and share it with your friends on Facebook, Twitter, Pinterest or Google+. If you do get this geeky gadget for yourself or as a present for someone else, tell us how you liked it, that would be awesome! :)
Categories: $1 to $25, All, All Prices, For The Youngster, Toys & Fun