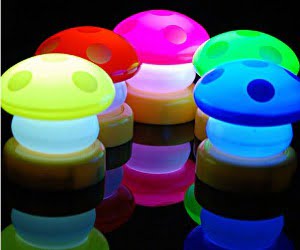 For the Super Mario Bros fans we present the mushroom night light lamps that come in different colors. They will add to your geeky home decor and fill your room with a dim light at night.
The mushrooms in Super Mario Bros video game give the player a power up or power down depending on their color. While these lamps won't work that way in real life, they will create a geeky atmosphere in your home for sure.
The mushrooms use LED to light up and are 3xAAA battery powered. Just tap them to turn them on or off.
Just don't try to eat them to power up, or if you, go for the red one.
We go around the web looking for new cool geeky items to surprise you. Today we've found Mario Mushroom Night Lamp and we think it's awesome. So go ahead and check it out, and leave your comments and share it with your friends on Facebook, Twitter, Pinterest or Google+. If you do get this geeky gadget for yourself or as a present for someone else, tell us how you liked it, that would be awesome! :)
Categories: $1 to $25, All, All Prices, Home & Kitchen