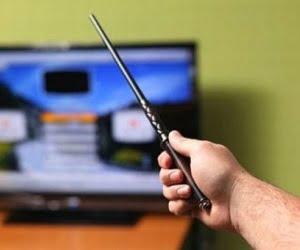 What would Harry Potter used to swap TV channels when he is at his dorm room at Hogwarts? He would simply used his magic wand of course! Why use the old remote when you can use magic?
Ok... The Magic Wand Remote Control doesn't use real magic, but almost! This awesome and revolutionary programmable TV remote let you swap TV channels by using different motions so it looks like you're using real magic! You can for example twirl the wand clockwise to change channel or pause/play the DVD or Blu-ray by moving the tip up and down. So basically it's not so far away from a real magic wand! And your friends will without a doubt be astonished when they see you use it when you have your next Harry Potter movie night!
The Magic Wand Remote is fully compatible with most devices that use remote controls, like TVs, stereo systems, Blu-ray players, DVD players, etc.
We go around the web looking for new cool geeky items to surprise you. Today we've found Magic Wand Remote Control and we think it's awesome. So go ahead and check it out, and leave your comments and share it with your friends on Facebook, Twitter, Pinterest or Google+. If you do get this geeky gadget for yourself or as a present for someone else, tell us how you liked it, that would be awesome! :)
Categories: $50 to $100, All, All Prices, For The Home/Family, Popular Product, Tech