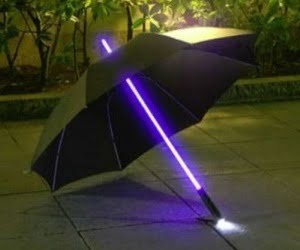 If you have a passion for both lightsabers and umbrellas, you can now meld your twin love into one with this awesome lightsaber umbrella! A perfect umbrella if you're a Star Wars or a Blade Runner fan!
Meld your twin love for lightsabers and umbrellas with this awesome lightsaber umbrella!
What if it suddenly starts to rain while you are on your way to the annual Star Wars convention? It can't get any more awesome than if you are dressed like Darth Vader or Luke Skywalker and pull up this awesome lightsaber that's combined with an umbrella in the rain among the other Star Wars fans! They will be amazed!
But you can fine use it in your everyday life too if you are unsure if it will start to rain or if you have to fight against some intergalactic enemies on the street.
The 32 inches long lightsaber is powered by 3 AG13 batteries which is included and you can easily operate the LED light functions. There are three modes that's controlled by a push button on the handle. You can choose between these three functions:
1. slow flash
2. fast flash
3. steady light
The umbrella measures 41 inches in diameter when it's opened.
We go around the web looking for new cool geeky items to surprise you. Today we've found Lightsaber Umbrella and we think it's awesome. So go ahead and check it out, and leave your comments and share it with your friends on Facebook, Twitter, Pinterest or Google+. If you do get this geeky gadget for yourself or as a present for someone else, tell us how you liked it, that would be awesome! :)
Categories: $25 to $50, All, All Prices, Other, Popular Product