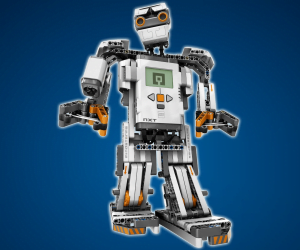 Want to own your own LEGO war robot, or maybe your very own little helper? No problem! With the LEGO Mindstorms NXT 2.0 the sky's the limit!
LEGO has evolved a lot since it first was introduced as wooden bricks in the 1930's. From being a quite primitive toy made from wood and then later ABS (acrylonitrile butadiene styrene) mainly made for young children, LEGO has now evolved to complex construction sets & awesome robot kits for older children and grown ups! But something that all LEGO sets have in common regardless of whether they are old, new, easy to assemble, difficult to assemble or if they are technologically advanced is that they will all provide hours of fun for the whole family. And the LEGO Mindstorms NXT 2.0 is no exception!
This awesome 600+ pieces LEGO set includes motors, bricks, one ultrasonic sensor, servos, two touch sensors, one color sensor, a processor(the brain) with display and software! In other words - Everything you need in order to build your own little LEGO robot that you can rebuild and program as you want! Maybe you want to own your very own warrior robot? No problems! Because with the LEGO Mindstorms NXT 2.0 the sky's the limit!
This kit comes with building instructions for 4 amazing robots.
We go around the web looking for new cool geeky items to surprise you. Today we've found LEGO Mindstorms NXT 2.0 and we think it's awesome. So go ahead and check it out, and leave your comments and share it with your friends on Facebook, Twitter, Pinterest or Google+. If you do get this geeky gadget for yourself or as a present for someone else, tell us how you liked it, that would be awesome! :)
Categories: $200 to $500, All, All Prices, Tech, Toys & Fun