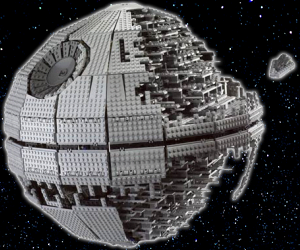 With its impressive 3,417 pieces, the LEGO Death Star II is one of the largest LEGO sets ever made and it will give the most experienced LEGO assembler a real challange. Remember to put your Darth Vader mask on.
Having his own Death Star with a Imperial super laser that he can blow up planets belonging to the Rebellion is the evil Star Wars geek's biggest dream. But unfortunately it is very unlikely that this dream will ever become a reality due to the Death Star's price tag on incredible $850,000,000,000,000,000 with our current technology. But there is a cheaper alternative while you wait for that the production costs will go down - The 3,417 pieces and 25 inches high LEGO Death Star II!
This awesome and detailed replica of the 160 kilometers in diameter battle station that includes a Imperial super laser II, ion cannons, laser cannons, deflector generators and numerous of other Death Star goodies is perfect for the Star Wars geek who has always wanted to build and owned his very own Death Star, and with it's incredible 3,417 pieces, it's a real challange to assemble so you need to have a lot of patience (perhaps even more patience than the Empire when they built their ultimate battle station).
We go around the web looking for new cool geeky items to surprise you. Today we've found LEGO Death Star II and we think it's awesome. So go ahead and check it out, and leave your comments and share it with your friends on Facebook, Twitter, Pinterest or Google+. If you do get this geeky gadget for yourself or as a present for someone else, tell us how you liked it, that would be awesome! :)
Categories: $500 & Above, All, All Prices, Toys & Fun