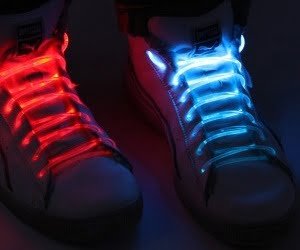 These shoelaces glow thanks to the power of LEDs. All places where it's dark and you are wearing shoes, you will look ultra-awesome with these LED shoelaces. Your nights on the dance floor will never be the same.
There is really nothing bad to say about shoelaces. It's they who ensure that the shoes don't fall off your feets when you walk around. Shoelaces could be called the very definition of a practical thing, but they often lack the little extra. They do only live up to their name: a few laces that sits on your shoes.
Yes, you can try to be a little wild & crazy and buy shoelaces in a crazy color or put a tassel at the tip of the lace or something similar. But that's it. You can't do much more with your laces to make them cool. Until now, as a helpful soul has finally constructed shoelaces that glow in the dark by using LED lamps. You'll definitely be the cooles person on the dance floor when you have these ones on your shoes!
They are washable, waterproof, safe for both children & teenagers and they have 3 modes: slow flash, long flash and fast flash.
We go around the web looking for new cool geeky items to surprise you. Today we've found LED Shoelaces and we think it's awesome. So go ahead and check it out, and leave your comments and share it with your friends on Facebook, Twitter, Pinterest or Google+. If you do get this geeky gadget for yourself or as a present for someone else, tell us how you liked it, that would be awesome! :)
Categories: $1 to $25, All, All Prices, For The Youngster, Other, Popular Product, Wearables