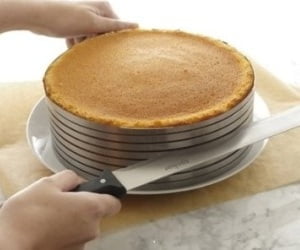 With the Layer Cake Slicing Kit you can easily slice your cake into thin and perfect layers. The slicing "template" has 7 slots for your knife so you can cut up to 8 layers of perfect cut cake layers!
This is a very clever invention! Just put the cutting "template" over the cake, adjust the "template's" diameter so it fits the cake and and you can cut up to eight thin and perfect cake layers with the following 12-inch long knife.
The template is adjustable for 10 to 11-inch cakes and it's a must-have if you spend much time in the kitchen to make your own cakes because this brilliant thing will make the job much easier for you!
We go around the web looking for new cool geeky items to surprise you. Today we've found Layer Cake Slicing Kit and we think it's awesome. So go ahead and check it out, and leave your comments and share it with your friends on Facebook, Twitter, Pinterest or Google+. If you do get this geeky gadget for yourself or as a present for someone else, tell us how you liked it, that would be awesome! :)
Categories: $50 to $100, All, All Prices, For Her, Home & Kitchen