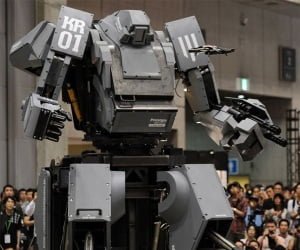 Have you always wanted to own your own diesel powered warbot? Now you have the chance because the Japanese has done it again! This warrior robot stands 13 feet tall and can be equiped with various weapons!
The KURATAS Warrior Robot stands 13 feet (around 4 meters) tall and weighs an incredible 4.5 tons! And the best part is that the warrior bot has a cockpit inside very similar to those on fighter jets! The cockpit does also has bulletproof glass so you are completely safe from your hostile surroundings once you've entered and activated the KURATAS Warrior Robot! But you can remote control it via the mobile 3G Internet access if you want to have the most awesome RC toy on the planet!
And weapons? Each KURATAS Warrior Robot can be custom made so you can equip it with whatever you want! Miniguns, flamethrowers, knuckles with spikes, water cannons and even a mop if you want to clean your house with it! Now that's awesome!
You can also get your KURATAS Warrior Robot in a variety of different colors. You can for example choose the camoflage paint if you're going to use it as a ranger in the jungle, red if you want to play firefighter with it, etc. Whatever you choose, You will definitely impress the ladies with this one and maybe even save the world one day!
NB! The starting price are on $1,350,000 but it's worth the money!
You can read more at the manufacturer's homepage here: http://suidobashijuko.jp
We go around the web looking for new cool geeky items to surprise you. Today we've found KURATAS Warrior Robot and we think it's awesome. So go ahead and check it out, and leave your comments and share it with your friends on Facebook, Twitter, Pinterest or Google+. If you do get this geeky gadget for yourself or as a present for someone else, tell us how you liked it, that would be awesome! :)
Categories: $500 & Above, All, All Prices, Popular Product, Toys & Fun