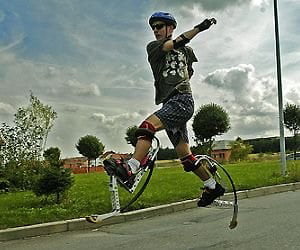 Jump higher and further than you ever jumped before with these super-awesome jumping stilts! With these leaf springs on your feet, you'll have no problem with jumping 7 feet up in the air and running 20 miles per hour!
Always wanted to jump higher & further than a kangaroo and run faster than Usain Bolt? Well, thanks to the Future™ and some really clever geeks, you can now become part human and part machine and jump higher and run faster than you ever have before with these awesome jumping stilts!
It's basically a pair of leaf springs made of fiberglass with an aluminum frame that you strap to your feet that allows you to jump as high as 7 feet up in the air and run up to 20 miles per hour, which is great if you want to out run the cops by feet, beat Usain Bolt in the next Olympics or jump up in the neighbor's apple tree and steal his apples.
We go around the web looking for new cool geeky items to surprise you. Today we've found Jumping Stilts and we think it's awesome. So go ahead and check it out, and leave your comments and share it with your friends on Facebook, Twitter, Pinterest or Google+. If you do get this geeky gadget for yourself or as a present for someone else, tell us how you liked it, that would be awesome! :)
Categories: $200 to $500, All, All Prices, For Him, Popular Product, Toys & Fun