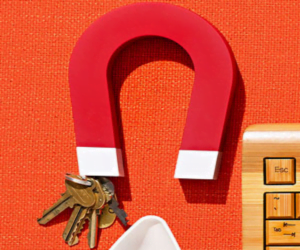 Do you always forget where you have put your keys? With this horseshoe shaped Jumbo Key Magnet key holder on your wall, you'll never lose your keys again (if you remember to hang them up of course).
Admit it. You are like most others a little forgetful when it comes to where you have put various things such as your keys. You turn your entire home upside down and create a huge mess every time you're looking for them. And even if you have some regular key hangers in your hallway to hang them on, you forget it because they are so boring. But if you need some motivation to hang up your keys in one place so you don't forget where you have put them, we have good news for you!
With this magnetic key holder that actually looks like a giant horseshoe shaped magnet from a cartoon, it will be equally fun to hang up the keys each time just because it looks like a giant magnet out of a Tom & Jerry cartoon. And with that in your mind, you can't forget it. But IF you lose them, you can always take the magnet down from the wall and use it to search for the keys in the area where you suspect that your keys are and hope that they will attach themselves to one of the magnet's tips.
We go around the web looking for new cool geeky items to surprise you. Today we've found Jumbo Key Magnet and we think it's awesome. So go ahead and check it out, and leave your comments and share it with your friends on Facebook, Twitter, Pinterest or Google+. If you do get this geeky gadget for yourself or as a present for someone else, tell us how you liked it, that would be awesome! :)
Categories: $1 to $25, All, All Prices, For The Home/Family, Home & Kitchen, Popular Product