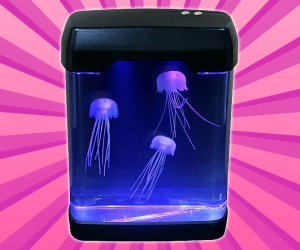 The Japanese really know how to get in a better mood! And now they have decided to share their well-guarded secret with the rest of the stressful world.
From the awesome high-tech country that brought us Pokemon, the Ninja Turtles and Nintendo... Introducing... The Jellyfish Mood Lamp!
This awesome lamp has a healing and therapeutic effect and will calm you down in real Japanese style. Put it on your desk, turn it on and test its healing effect by yourself.
This set includes a fish tank, 3 jellyfishes, backdrop, a quiet motor and LED light with 5 differen color effects.
The jellyfishes are so realistic that you will question if they actaully are real!
If this doesn't calm you down, nothing will!
We go around the web looking for new cool geeky items to surprise you. Today we've found Jellyfish Mood Lamp and we think it's awesome. So go ahead and check it out, and leave your comments and share it with your friends on Facebook, Twitter, Pinterest or Google+. If you do get this geeky gadget for yourself or as a present for someone else, tell us how you liked it, that would be awesome! :)
Categories: $25 to $50, All, All Prices, Other