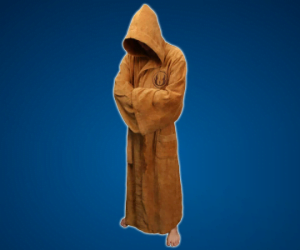 Spread the force at the beach, at your local public bath, at your own home or at someone you know because a Jedi never goes out of style!
Jedis and Sith lords are sworn enemies, but they have one thing in common - if they are going to take a bath or a shower, it's no problem. Their standard outfits is actually bathrobes! (Does not apply for Darth Vader. Although his equipment probably is made of stainless steel, it should be too heavy for a proper swim.) And they use to wear these robes in their everyday life out in the galaxy without anyone starts to mess with them because they are dressed weird. This may of course have to do with the fact that they are armed with lightsabers, but don't let that deter you. Carry your Jedi Bathrobe exactly where and how you want, and not just in the bathroom. It's so classy!
If you're a member of the Jedi Church as well, you can use it on the meetings to gain some respect from the scholars and the masters.
The Jedi Bathrobe is an official Star Wars product made of 100% cotton that's machine washable. It's one-sized, however, is quite large, so it's best suited to a man between M-XL.
We go around the web looking for new cool geeky items to surprise you. Today we've found Jedi Bathrobe and we think it's awesome. So go ahead and check it out, and leave your comments and share it with your friends on Facebook, Twitter, Pinterest or Google+. If you do get this geeky gadget for yourself or as a present for someone else, tell us how you liked it, that would be awesome! :)
Categories: $50 to $100, All, All Prices, For Him, Wearables