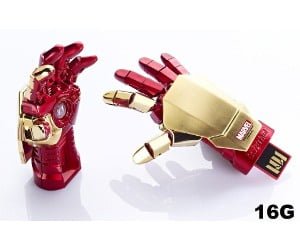 Wouldn't it be awesome to have the Iron Man suit? While getting a full suit may be unattainable at the moment, you can have a little token that this Iron Man hand USB drive is.
The hand has movable fingers so you can form any sign with them you want. It is miniature as you'd expect from a USB key and looks like a little Iron Man hand. The USB plug is at the bottom of the wrist of the hand.
The drive itself comes with the capacity of 16 GB and works just like any USB drive. Get two and when plugged into your laptop they will make it look like your computer has little Iron Man hands.
It's a great gift for any Iron Man fan.
We go around the web looking for new cool geeky items to surprise you. Today we've found Iron Man Hand USB Drive and we think it's awesome. So go ahead and check it out, and leave your comments and share it with your friends on Facebook, Twitter, Pinterest or Google+. If you do get this geeky gadget for yourself or as a present for someone else, tell us how you liked it, that would be awesome! :)
Categories: $50 to $100, All, All Prices, For Him, Tech