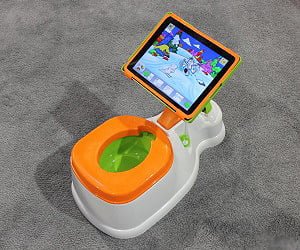 What if you could teach your child to go on the potty and use modern technology at the same time? That's exactly what this ridiculously hilarious 2-in-1 potty allows you to do!
Wouldn't it be great if you could teach your toddler to use the potty and your iPad at the same time? Well, with this ingenious 2-in-1 iPotty, that shouldn't be a problem.
The iPotty Activity Seat looks just like a regular potty except that it has a rotating and movable activity stand for iPad in the front so your little sweet angel can play fruit ninja or chat with you through Skype while he or she learns to take a dump on the potty!
The iPotty is both great for preparing your child to face the technological everyday life when he or she grows up, and to encourage him or her to use the potty.
We go around the web looking for new cool geeky items to surprise you. Today we've found iPotty Activity Seat for iPad and we think it's awesome. So go ahead and check it out, and leave your comments and share it with your friends on Facebook, Twitter, Pinterest or Google+. If you do get this geeky gadget for yourself or as a present for someone else, tell us how you liked it, that would be awesome! :)
Categories: $25 to $50, All, All Prices, For The Youngster, Tech