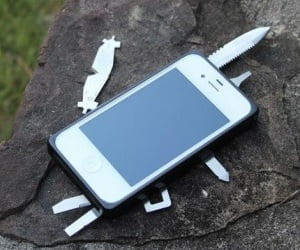 An Apple fanboy can never be prepared enough! So why not equip your most beloved gadget with a multi-tool case so you have one extra survival tool in you arsenal? Because you never know what you may encounter!
This iPhone toolkit is really a clever invention. With this one in your pocket, you're always prepared to face different situations where you wished you had brought with you a survival tool in the first place.
Admit it, your iPhone is your life and your most beloved belonging. You carry it with you all the time in your pocket. You carry it with you on the bus, to the office, to school and to the mall. You call your friends with it, you use it to surf on the web and you play games with it. But it falls short when you need to, for example, cut wires, cut branches or tighten screws. You can't simply find an app for that on your iPhone as you can do for many other things. But there is a CASE for it!
The iPhone Multi-Tool Case let you turn your no.1 gadget into a survival tool that even would have astonished MacGyver himself! This next generation multi-tool is grafted from high-quality steel, aircraft aluminum and strong and light polycarbonate to reduce the weight to only 89 grams so you don't lose your pants when you carry it in your pocket. In all, your phone will be surrounded with 16 different survival tools as a knife, a sawblade, three different screwdrivers, wrenches, wire cutters, a wire stripper, a ruler, a bottle opener and a kickstand! Everything you need in order to face different survival situations in your everyday life!
We go around the web looking for new cool geeky items to surprise you. Today we've found iPhone Multi-Tool Case and we think it's awesome. So go ahead and check it out, and leave your comments and share it with your friends on Facebook, Twitter, Pinterest or Google+. If you do get this geeky gadget for yourself or as a present for someone else, tell us how you liked it, that would be awesome! :)
Categories: $50 to $100, All, All Prices, For Him, Knives, Tools & Survival, Popular Product