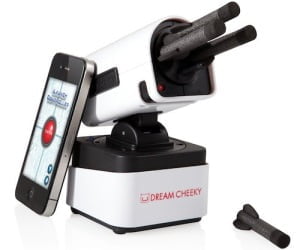 Now you can finally neutralize enemies at your office from your Apple device 100% wirelessly and remote controlled! The iLaunch Thunder can rapidly fire four missiles at the target with just a push of a button.
Are you tired of annoying coworkers who throws paper balls at you when you sit with your back towards them, who creates a huge mess on your desk and who snoop in your drawers everytime you're not there? Well, we're familiar with this problem at our office too. So therefore, we would strongly recommend this iPhone/iPad/iPod rocket launcher so you can finally teach your annoying coworkers that they should stay away from your stuff and for every "paper ball projectile" they throw at you, their attack will be answered with a foam missile in return.
USB rocket launchers has been around for years. But unlike those rocket launchers, the wireless iLaunch Thunder can be remotely controlled straight from your iPhone, iPad or iPod via Bluetooth. So the only thing you need to do is to place it on your desk, connect it to your Apple device, wait for a nosy colleague to show up, take aim from your Apple device and push the 'fire' button! We're pretty sure your nosy coworkers will keep their hands off you desk when they get rockets shot at them remotely every time they dare to approach your desk.
We go around the web looking for new cool geeky items to surprise you. Today we've found iPhone/iPad/iPod Rocket Launcher and we think it's awesome. So go ahead and check it out, and leave your comments and share it with your friends on Facebook, Twitter, Pinterest or Google+. If you do get this geeky gadget for yourself or as a present for someone else, tell us how you liked it, that would be awesome! :)
Categories: $50 to $100, All, All Prices, Tech