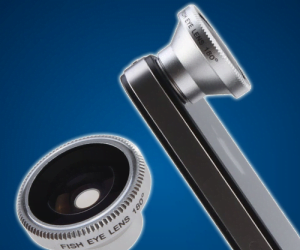 The iPhone Fisheye Lens provides you with an angle more like from a goldfish bowl. Straight lines will become curved and the world will look like a bubble.
Cell phone and smartphone cameras have gotten much better with the time. For 7-8 years ago you could only get low-quality VGA snaps out of your phone, but now you can get high-quality images with 10+ megapixel resolutions. But this evolution hasn't really changed the way you take pictures on. You can never get more on the picture than what the camera registered at the moment you took the photo.
If you really want to take larger and closer pictures with your iPhone, you have to mount a lens on it. There are no other solutions. So therefore, we propose you to mount a fisheye lens to your iPhone so the world will look like a bubble, more like how the world looks like when you see through a goldfish bowl!
We go around the web looking for new cool geeky items to surprise you. Today we've found iPhone Fisheye Lens and we think it's awesome. So go ahead and check it out, and leave your comments and share it with your friends on Facebook, Twitter, Pinterest or Google+. If you do get this geeky gadget for yourself or as a present for someone else, tell us how you liked it, that would be awesome! :)
Categories: $1 to $25, All, All Prices, Tech