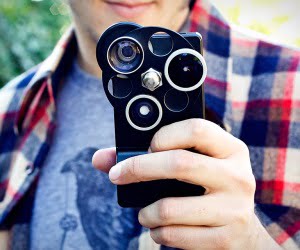 Do you want to step up your photography career a bit, but only have your iPhone? Don't worry, this three-lens dial turns your iPhone into a professional camera so you can upload professional-looking photos to Instagram.
Unleash your inner photographer and kick start your Instagram photography career with this iPhone camera three-lens dial. It's the perfect gadget to attach to your iPhone if you can't afford a DSLR camera, and it allows you to take incredibly beautiful photos without having to invest in an expensive camera.
The slim aircraft-grade aluminum case's dial is equipped with 3 different lenses: a fisheye lens, a wide angle lens and a telephoto lens. And the only thing you have to do to change lenses is to rotate the dial.
We go around the web looking for new cool geeky items to surprise you. Today we've found iPhone Camera Three-Lens Dial and we think it's awesome. So go ahead and check it out, and leave your comments and share it with your friends on Facebook, Twitter, Pinterest or Google+. If you do get this geeky gadget for yourself or as a present for someone else, tell us how you liked it, that would be awesome! :)
Categories: $200 to $500, All, All Prices, Popular Product, Tech