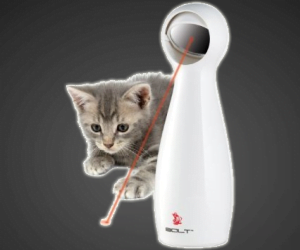 Finally, the future of cat technology is here! This awesome fully automated laser toy can generate a red laser pattern that your kitty will love! Turn it on, watch your cat chase random laser patterns and enjoy!
It's much better to watch your cat chase the laser pattern than watching TV (except Star Trek and Star Wars of course).
You can also create your own laser pattern or use the manual mode and aim the red laser dot or the laser pattern wherever you want.
It does also have a automated switchoff feature which activated after 15 minutes, or you can just use the manual on/off switch!
It requires 4 AA batteries which isn't included and it's 100% safe for your cute kitty!
We go around the web looking for new cool geeky items to surprise you. Today we've found Interactive Laser Pet Toy and we think it's awesome. So go ahead and check it out, and leave your comments and share it with your friends on Facebook, Twitter, Pinterest or Google+. If you do get this geeky gadget for yourself or as a present for someone else, tell us how you liked it, that would be awesome! :)
Categories: $1 to $25, All, All Prices, For The Pet, Toys & Fun