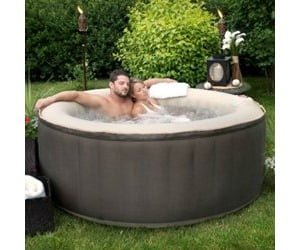 Do you want your own personal hot tub at home but the price to get one is a little steep? How about an inflatable alternative which is as good as a real one but is also portable so you can easily carry it where ever you want.
This inflatable portable hot tub for 4 persons is easy and fast to set up with no tools required. It self inflates in minutes and can be used at home, in your basement or backyard - where ever you want.
It holds 211 gallons of water and has a massaging bubble system of 13 air jets. The tub is of an inner diameter of 55 inches and outer diameter of 73 inches.
Get this inflatable hot tub and you will have your own spa in your own home at a relatively low cost.
Let the relaxation begin!
We go around the web looking for new cool geeky items to surprise you. Today we've found Inflatable Hot Tub and we think it's awesome. So go ahead and check it out, and leave your comments and share it with your friends on Facebook, Twitter, Pinterest or Google+. If you do get this geeky gadget for yourself or as a present for someone else, tell us how you liked it, that would be awesome! :)
Categories: $200 to $500, All, All Prices, For The Home/Family, Other