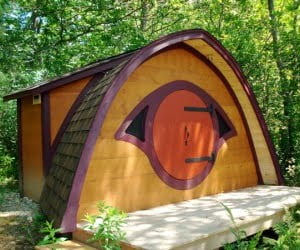 What do you think Frodo do after a hard day's work to fight evil with good? He rides his horse home to his hobbit hole, eats his favorite food mushrooms and then relax in his outdoor hobbit hole sauna!
Being a hobbit who is trying to save the world from evil forces can be exhausting and tiring. And especially when a small ring that everyone try to get hold of determines the whole Middle-earth's destiny. When you have such a hectic schedule, it might be good to come home to a hot and steamy sauna where you can relax and melt away your worries.
The Hobbit Hole Sauna is the perfect sauna for fans of J. R. R. Tolkien's legendarium The Lord of the Rings. This sauna looks just like a hobbit hole and is handcrafted of cedar - both the structure itself and the interior to give you just the right atmosphere to melt away your cares. And don't worry, it doesn't matter what size you are because this sauna comes in different sizes. So it fits just as well for humans as it does for short hobbits (depending on what size you choose of course).
We go around the web looking for new cool geeky items to surprise you. Today we've found Hobbit Hole Sauna and we think it's awesome. So go ahead and check it out, and leave your comments and share it with your friends on Facebook, Twitter, Pinterest or Google+. If you do get this geeky gadget for yourself or as a present for someone else, tell us how you liked it, that would be awesome! :)
Categories: $500 & Above, All, All Prices, Home & Kitchen