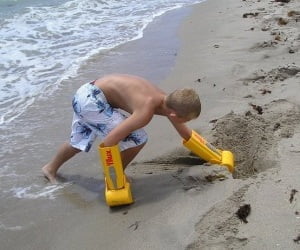 Even if you are a man, a woman or a child, you can now be part human and part machine with these awesome hand shovels! Your kid will definitely become the "top dog" of the local beach with these ones!
Just go to the beach or to your own backyard, "mount" the hand shovels to your arms, imagine that you are a robot or a machine and start shoveling!
Building huge sandcastles, digging deep holes or just shoveling mega piles of sand will become a breeze with these ones and they will make you or your kid to the "top dog" of the local beach. And they will make anyone look ultra awesome too!
The bright yellow color of the hand shovels makes them really easy to spot in case you lose them or if they get buried by a wave.
They will definitely provide hours of fun! And if you are to lazy to dig holes in your garden for your next home project, you can give them to your kids and they will dig the holes for you while you are enjoying an ice-cold beer in the hot summer sun!
We go around the web looking for new cool geeky items to surprise you. Today we've found Hand Shovels and we think it's awesome. So go ahead and check it out, and leave your comments and share it with your friends on Facebook, Twitter, Pinterest or Google+. If you do get this geeky gadget for yourself or as a present for someone else, tell us how you liked it, that would be awesome! :)
Categories: $1 to $25, All, All Prices, For The Youngster, Popular Product, Toys & Fun